A Series Hyster Straddle Carriers
(M400A, M600A, M700A)
Remanufactured Hyster A Series Straddle Truck® Carriers
The Hyster A series straddle carriers have a proven design with 50 years of operating history. These all-weather vehicles were engineered for rugged, heavy-duty applications.
Full Time Four Wheel Steering provides excellent maneuverability in tight spaces. The robust hydraulic system provides ample power for smooth, four-wheel power steering, load lift, and load swing. Each wheel is independently suspended offering excellent ride, regardless of terrain. Air boosted hydraulic brakes ensure high braking power with little pedal effort. Its fully enclosed cab features a heater, defroster and placement of controls for ease of operation. Operator training programs for this machine are available from Great Lakes Power.
Keep your machine in service with our extensive inventory of available Hyster A Series Straddle Truck Carrier spare parts.
Our experienced, professional engineering team can upgrade your Hyster Straddle Carrier with:
Automatic Lift Cylinder Synchronization System
Updated Hydraulic System
Repowers with Cummins QSB6.7 and Allison 3000RDS Transmissions (Tier III or Tier IV available)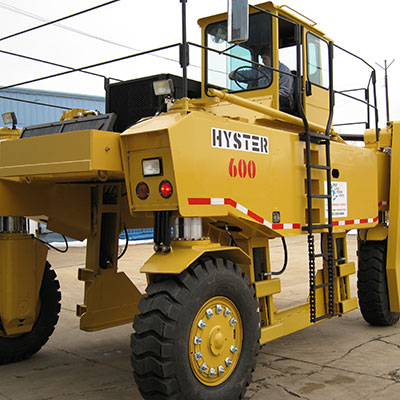 Fork Tubes
High-strength, construction provides maximum durability to withstand shock. Straddle Carrier is supported by Four Anti Friction Bearings and Engineered Polymer Sleeves in Fork Tube Bushings for extended service live.
Frame
NDT frame inspection and frame repair and augmentation as part of remanufacturing process.
Wheel Guard
Outer wheel guard with reinforcing bars for high impact strength.
Chain Guard
Easy-to-remove chain guards make accessing drive equipment for maintenance simple while ensuring protection of the drive system when working in tight spaces.
*Hyster® and Straddle Truck® are registered trademarks of Hyster-Yale Group, Inc.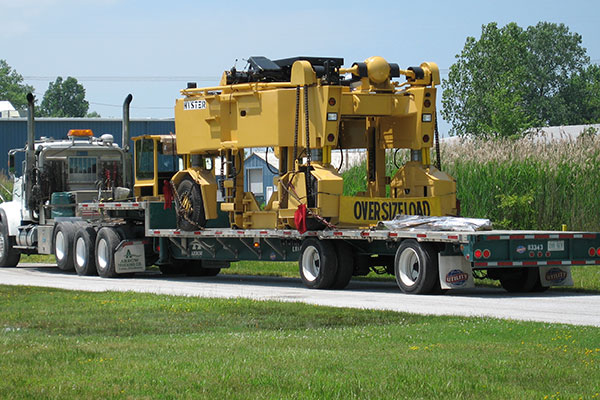 All Remanufactured Machines are Fully Load Tested and Backed by a Comprehensive Warranty
M400A
Rated capacity of 40,000 pounds. Efficient power train and all hydraulic hoist system are a proven favorite in the Steel Industry.
DOWNLOADS
Contact us for more information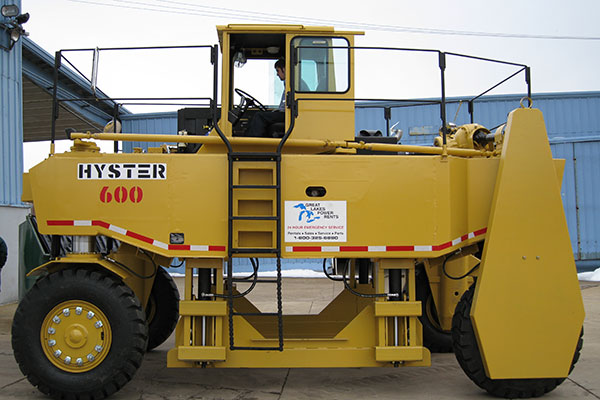 M600A/M700A
Rated capacity of 60,000 and 70,000 pounds respectively. These versatile straddle carrier's are designed to be used in multiple industries.
DOWNLOADS
Contact us for more information