H Series Hyster Straddle Carriers
(M200H, M300H, M400H)
Remanufactured Hyster H Series Straddle Truck® Carriers
The Hyster H series straddle carriers have a proven design with 50 years of operating history. These versatile straddle carriers were originally engineered for lumber and refinery applications but their efficient design makes it easy to quickly maneuver through industrial job sites with limited space.
The H series' hydraulic system provides ample power for smooth, power steering, load lift, and load swing. The hydraulic-assist, four-wheel power steering system ensures smooth positive action, making maneuvering quick with minimum effort. These all-weather vehicles are designed for good visibility in all directions and come standard with a heater and defroster, conveniently placed instruments and controls, and automatically reversing driving lights.
Keep your machine in service with our extensive inventory of available Hyster H Series Straddle Truck Carrier spare parts.
Our experienced, professional engineering team can upgrade your outdated Hyster Straddle Carrier with:
Automatic Lift Cylinder Synchronization System
Updated Hydraulic System
Repowers with Cummins QSB4.5 and Allison Transmissions available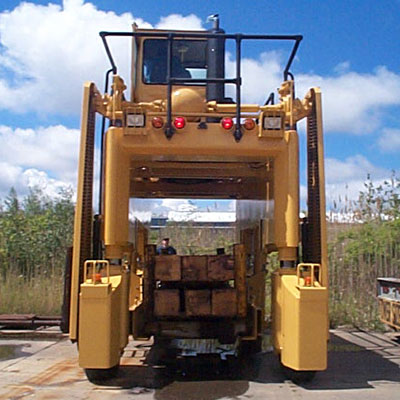 Engine/Transmission
Cummins QSB4.5 Diesel Engines and Allison Automatic Transmissions for repowering an existing machine with same or better emissions tie level. Tier III options without aftertreatment are available.
Frame
NDT frame inspection and frame repair and augmentation.
Chain Guard
Easy-to-remove chain guards make accessing drive equipment for maintenance simple while ensuring protection of the drive system when working in tight spaces.
*Hyster® and Straddle Truck® are registered trademarks of Hyster-Yale Group, Inc.
All Remanufactured Machines are Fully Load Tested and Backed by a Comprehensive Warranty
M200H
Rated capacity of 20,000 pounds.
DOWNLOADS
Contact us for more information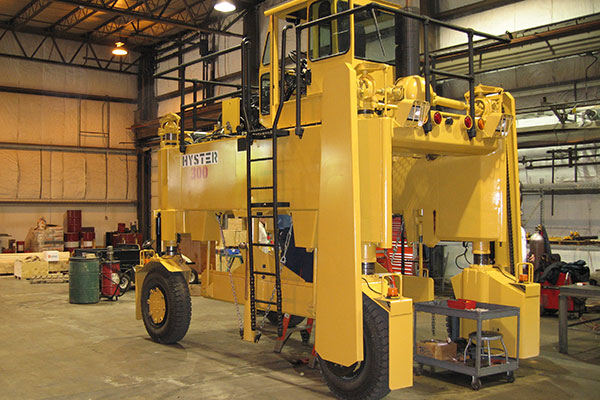 M300H
Rated capacity of 30,000 pounds.
DOWNLOADS
Contact us for more information

M400H
Rated capacity of 40,000 pounds.
DOWNLOADS
Contact us for more information